The best landing pages have one thing in common: they convert like crazy! Don't you want a landing page that actually works? In this article, we give you a blueprint for creating landing pages that convert!
Exasperating, isn't it? That feeling you get when you know the benefits of having a landing page that converts like crazy, yet your landing page sucks!
Well, today you're in luck.
That's because I am going to take you through the rudiments of making the best landing pages that really work.
But first, what is a landing page?
What is a Landing Page?
A landing page can be any page that someone lands on after clicking on an online marketing call-to-action.
The best landing pages are dedicated, stand-alone pages that are designed for a specific marketing campaign.
---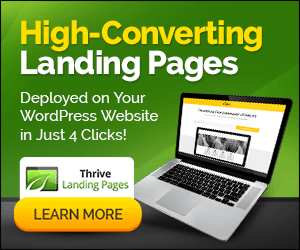 ---
A landing page is a stand-alone in the sense that it has no ties to your website, like global navigation. In other words, it floats alone, and is only accessible from the link you're providing in your marketing content (the call-to-action in an email for example).
The best landing pages usually have all navigation and extra links removed so there is only a single action for your visitors to take: Click your call-to-action.
The Purpose of a Landing Page
The best landing pages fulfil two basic purposes:
To capture leads that enable you to market to people in the future, or
To "warm up" potential customers to the product you are trying to sell to them before sending them further into your sales funnel.
This creates the need for two types of landing pages – a lead generation page and a click-through page. In this blog post, our focus is on a lead generation page.
The most valuable piece of information you can get from a lead generation page is someone's email address. This gives you permission to continue talking to them, and or marketing to them.
Once you have a lead's permission, you then try to convert them into a customer by combining the two most powerful 1-to-1 communication tools a marketer has – email and landing pages.
You can create your landing page using InstaBuilder which I use and recommend. It's cheap and versatile. This is an an example of one my best landing pages, which has a 42.40% conversion rate.
The Best Landing Pages – Conversion Rates
According to research by WordStream, across industries, the average landing page conversion rate was 2.35%, yet the top 25% are converting at 5.31% or higher. Ideally, though, you want to break into the top 10% — these are the landing pages with conversion rates of 11.45% or higher.
Your Goal: Do not focus on what the research says about average conversion rates, because you're not average. As I said earlier, one of my landing pages is achieving 42.40% conversion, and if I can do it, you can too!
So, set your expectations high. Your goal should be to have a minimum conversation rate of 30%. So, if:
100 people visit your landing page; and
30 of them opt-in to your email list
Then your conversion rate is 30%. This is achievable, with a lot of hard work. A common trait across all top performing landing pages was this: they have incredibly unique offers that help them stand out in their respective industries.
It's easy to fall into the trap of offering the same thing everyone else is offering. If you're a dentist, for example, your offer might be a discount on an initial visit. Accountants might offer a free consultation. Software companies a free trial.
The best landing pages feature creative offers that are more compelling, more interesting, and ultimately convert better.
If you want to break into the top 25%, you need to test an average of four unique landing pages, with different offers, messaging and flow to find that one winner.
To break into the top 10%, you'll need to test ten different landing pages. To succeed across your account, you'll need to test this much for each winning page.
The Best Landing Pages – Message Match
Message match is an essential part of why landing pages can be so successful. Message match is the ability of your landing page to reinforce the messaging presented on the link that was clicked to reach the page.
Most visitors are impatient and will leave your page within a few seconds of arrival if you don't reinforce their intent with a matching headline and purpose (quickly and clearly).
This example shows a comparison of good and bad message match on a landing page used for a pay-per-click campaign:
| | Call-to-action Message | Landing Page Headline |
| --- | --- | --- |
| Bad message match | Get 25% off a MacBook Pro | Welcome to St. John's Computer Store |
| Good message match | Get 25% off a MacBook Pro | Get up to 50% off Mac Book Pro at St. John's Computer Store |
By ensuring a strong message match, you are letting the visitor know that they made a "good click".
The Best Landing Pages – Maximizing Conversion Scent – a.k.a. Message Match
Conversion scent, or information scent, is another way of describing the connection between your source ad and your landing page. The scent begins when the ad is seen, and is maintained or ended when the visitor sees your landing page (depending on how strong your message match is).
The best landing pages have 5 core elements, which can be broken down further into a more detailed list of building blocks
The hero shot (images/video showing context of use)
Your Unique Selling Proposition (USP)
The main headline
A supporting headline
A reinforcement statement
A closing argument
The benefits of your offering
A bullet point list summary of benefits
Benefit and features in detail
Proof – Social proof (I'll have what he's having)
Trust indicators
A single conversion goal – your Call-To-Action (CTA)(with or without a form)
Best Landing Pages – 3 Examples
---
---
The Lead Capture Checklist
If you're setting up your lead-capture system, then you may have noticed there are a lot of pieces and parts required to make it all run smoothly. That means that even if you already have your lead-capture system in place, you might be missing opportunities to capture those leads. That's why you'll want to use a checklist to get your lead-capture system up and running.
How to Setup the Best Landing Pages
In many cases, you'll send traffic directly to your lead pages. Here's what you need to do to get them set up:
Step 1: Create your lead magnet.
People don't like sharing their personal information for free. Therefore, you've got to give them something valuable in exchange for their email address. What you offer them is your lead magnet.
The lead magnet is an important piece, because your lead magnet and the follow up emails you send are going to be intricately linked.
This should be something that has the following characteristics:
Desirable (remember to do your market research).
Easy to deliver.
Example of products that possess these characteristics include:
Ebooks.
Cheat sheets.
Mind maps.
Gear lists.
Worksheets.
Infographics.
Videos.
Audios.
Apps.
Free trials.
Free memberships.
… and similar tools and resources.
You may also be able to offer a free trial, free sample, or discount that can be used in your online store.
What's important is that you recognize the submission of personal information as a kind of currency exchange. You've got to offer something of equal or greater value, if you want people to go through with it.
TIP: Create multiple lead magnets so that you can attract people in your niche with varied interests. For example, if you're selling organic gardening information, you might have lead magnets that focus on vegetable gardening, flower gardening, and herb gardening.
Step 2: Write your lead page copy.
This is where you tell your prospects why they should join your list. This doesn't need to be long-form copy.
Create a benefit-driven headline.

Eg., "Dieting Just Got A Whole Lot Easier!"

Introduce the problem and solution in the first few lines.

Eg., "If you're tired of diets that don't work, those that leave you hungry and irritable, and those that pack the weight right back on a year later, then you're going to love this FREE offer…"

Create a bulleted list of benefits. Put forth the BEST reasons for your prospect to sign up for your list.

Eg., "You'll discover the #1 way to double your conversion rates with less than five minutes' worth of work. It's easy!"

Insert a strong call to action. Tell people exactly what you want them to do next and why.

Eg., "Claim your free kettlebell training video now by entering your email address and clicking join in the form below – and do it now, before this free offer disappears!"

Insert your opt-in form at the end. Check with your email service provider for instructions on creating this form.

Test your opt-in form to be sure it works.
Step 3: Set up your autoresponder.
This includes:
Creating an autoresponder for each specific campaign.
Creating your opt-in forms for these campaigns.
Loading your follow-up email messages into the autoresponders.
Testing the whole system to be sure it works.
Next…Set Up On Your Blog/Website
Sometimes you may have links to your landing page sprinkled about your web properties.
In other cases, you may put variations of your landing page copy directly into choice places on your website in order to capture more visitors. Here are places to capture these visitors…
Step 1: Set up sidebars.
Your opt-in form should definitely appear in a prominent place in your sidebar, such as the uppermost position.
TIP: You can test and track to determine the best places for your forms to appear.
Step 2: Include opt-in forms in the header and/or footer.
Note that placing opt-in forms in your header, footer AND sidebar is overkill. However, one well-placed opt-in form in your sidebar and another in your footer is very reasonable.
---
Recommended For You:
[Revealed] The 16 Top Email Marketing Best Practices for Beginners
---
Step 3: Insert a lead-capture popup.
You'll want to test to see which of these lead-capture popups work the best for you. Here are timing alternatives to test:
Popup appearing immediately upon entry to a page or website. This is usually the least effective, because a new visitor doesn't even know who you are or what your site is about, so they probably will dismiss the popup.
Popup appearing after a delay. This delay may range from 30 seconds to two minutes or so. This gives people time to learn more about your site before you put an offer in front of them.
Popup appearing on exit. This is a good strategy, because you have nothing to lose by asking an exiting visitor to join your list.
You can also test the actual format, including:
Traditional popup.
Slide-in (that comes from top, bottom or one of the sides).
Lightbox popup, which darkens the rest of the website until the person either fills in the form or dismisses the popup.
Any of the above popups with a countdown timer. The idea is to create a sense of urgency by making the free offer limited for a short period of time, such as 30 minutes or so.
Step 4: Insert opt-in forms directly into the content.
This is one of the most powerful ways to capture leads, because you can create highly targeted opt-ins. For example, at the end of a blog post about Facebook marketing, you might insert a lead magnet offer for a free Facebook marketing video.
Step 5: Set Up Your Other Web Properties
Primarily, this is about setting up lead capture forms (or links, if forms can't be placed) on your other pages and properties, including:
Social media pages, such as Facebook, Twitter, LinkedIn, YouTube and more.
TIP: On Facebook, this is particularly easy to do, especially if you are with a major Email Service Provider such as Mailchimp or MailerLite.
To add a form to your Facebook Page, follow these steps.
Log in to your MailChimp
Click your profile name, and choose Account.
Click Integrations.
Click Facebook to open the integration details.
Click the Page to use drop-down menu, and choose the Facebook Page where you'd like your signup form to appear.
Click the List to use drop-down menu, and choose the name of the list where you want to add your subscribers from Facebook.
Click yes under Use signup form tab to activate the signup form tab on the Facebook Page.
Click the Form theme drop-down menu, and choose a form style. To use the design from your MailChimp-hosted signup form, choose My List's Theme (default). To blend your form with Facebook's look and design, choose Facebook-esque.
Assign a name for your tab in the Tab label Your subscribers will click this tab on your Facebook Page to access your form.
Click Save.
How it works
Create a subscription form using Mailerlite form builder. Please note that for integration to work, you need to create an "Embed", "Button" or "Landing Page" type of webform first.
Log into your Mailerlite
In your integrations page, select Facebook and follow the process to set up your new form on your business page.
That's it! You are ready to start increasing your subscriber list. If you do want to edit the form. You can always do that from your Webforms page.
The keys to a good lead-capture system include writing good copy and inserting your opt-in form across your pages and properties. That's what this checklist is all about!

Now Your Turn
Do you have a landing page? A common feature of the best landing pages is that they convert like crazy. What kind of conversion rates do you have? Are they fantastic or average? How can you improve those rates?
Please click to leave a comment.
Disclosure of material connection
Some of the links in this article are "affiliate links" as defined by the FTC. This means if you click on the link and purchase the item, Astute Copy Blogging will receive an affiliate commission, at no additional cost to you. However, please note that we only recommend the best products and services.