Would you want to become a Pro Blogger? Do you want to know how to earn from blogging? Then you're in the right place. That's because in this tutorial and step-by-step guide, we will give you the steps to create a blog. We will show you how to start a blog and earn money.
But first, here is the reality.
As an online entrepreneur, author, copy writer, content marketer, social media enthusiast, digital marketer and writer, one of the best decisions you can ever make is to start a blog. That's because starting a blog is the easiest way to build a platform in today's world. More importantly, monetizing a blog is how to earn money through a website. While you can do this with free hosted options like WordPress.com, TypePad.com, and Blogger.com, I don't recommend any of them for 3 reasons:
Using any of those free services is like building your online business on rented lot. You're at their mercy. Whenever they change their algorithms, you can literally lose everything.

Fun fact: myblog.com looks more professional than myblog.w

ordpress.com or myblog.typepad.com or myblog.b

logspot.com

You will get the most control by using self-hosted WordPress. To do this, you will need to install WordPress.
Most pro bloggers, who know how to earn a living from blogging, use self-hosted WordPress. It is what I use here on my blog.
Here's why:
Understanding The Power, Functionality And Beauty Of WordPress
WordPress is the #1 website creation software in the world. WordPress powers over 25% of the internet, and provides everything you need to create a beautiful and powerful website. Built by a community of global developers, WordPress is continuously being improved and refined to provide the best functionality and performance for its users. This open source approach has made WordPress the website creation and management platform of choice for new and skilled users all over the world.
In addition to being the most used platform for website creation, WordPress allows you to manage all of the content on your website from one place. It also has a wealth of themes, add-ons, and plugins that are easily installed as you are building your website, giving you nearly limitless options on customization.
However, this is where many people get stuck. They assume that it is complicated and time-consuming to set up a hosting service and install WordPress.
It's not.
Steps To Create A Blog: How To Start A Blog And Earn Money – A Simple, Straightforward, Step-by-Step Process
In this steps to create a blog, I will show you how to start a blog and earn money. This guide is essentially how to install WordPress and set up your blog in fifteen minutes or less. As a bonus, I also explain:
How to write and publish your first blog post;
How to earn from blogging.
The good news is that you won't need any technical expertise to set up your blog and earn money. This tutorial is simple. I walk you through the entire process, one click at a time.
As Easy As ABC: How To Start A Blog And Earn Money
You can install WordPress and launch your blog by following these 5 easy, straightforward   steps.
Steps To Create A Blog – Preparation: Gather Your Resources
To install WordPress and set up a self-hosted WordPress blog, you will need:
A domain name
A credit or debit card
10 – 15 minutes
It's easier if you haven't already registered your domain. It's also cheaper. I will show you how to get one for free, using the service I recommend in Step #1.
However, if you have already registered your domain, no sweat. You will simply need to add an additional step. I will explain the process at the end of this post.
Step 1: Set Up a Hosting Account
This will be your blog's home and where it will "live." This is a server in the cloud (i.e., a remote computer), where you will rent space to install WordPress (the WordPress software) and manage your blog. It's far easier than it sounds. Don't go anywhere. Stay with me.
There are hundreds of hosting services available—perhaps thousands. However, based on my experience and research, I recommend Bluehost. I believe it is the best option for most people for the following 8 reasons:
Note: I am a Bluehost affiliate, which means the company pays me a small commission every time someone signs up via one of my links. But this didn't influence my recommendation, because all hosting services have similar programs. I recommend  Bluehost because I honestly believe they offer one of the best hosting available.
By the way, Bluehost offers a thirty-day, money-back guarantee, which is written into their Terms of Service. So there's really no risk on your part.
Okay, so if you are still with me, click >>> here now to go to the Bluehost home page. And as you can see from the screen below, click on the green Get Started button.
Now you need to decide on your plan. I want to suggest that you select the Plus Plan. This is Bluehost's most popular option—and for good reason. It's only two dollars more a month than the Basic plan, BUT it gives you the ability to host an unlimited number of websites on this one account. I think that makes it a no-brainer.
Regardless of the plan you pick, my instructions will work for you; the math will just be different. Continue by clicking on the green Select button.
you need to decide whether you need a domain name or you already have a domain name. I'm going to assume that you haven't previously registered a domain, using some other domain registration service (e.g., GoDaddy.com). If you have, I will explain what to do at the end of this post.
As you can see from the image below, now enter your domain name in the left box [1], choose the appropriate extension (com, net, biz, etc) [2] and click on the Next button [3].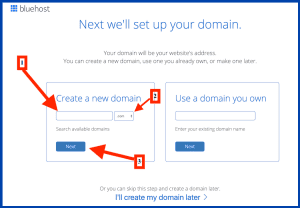 Fill in your account information and then scroll down to select your package. As you can see, the prices range from $5.95 to $7.95 per month. (Again, this is for the Plus Package.) It all depends on the length of your commitment.
One thing to keep in mind is that you will be required to pay the annual rate upfront. That's how Bluehost is able to offer these super low prices. Based on using my affiliate link, here's the math:
12 months at

$7.95

per month is $95.40 per year and

$95.40

upfront.
24 months at $6.95 per month is $83.40 per year and $166.80 upfront.
36 months at $5.95 per month is $71.40 per year and $214.20 upfront.
I would suggest you add Domain Privacy Protection for $0.99 per month, which will add an additional $11.88 to your upfront payment. When you add Bluehost Domain Privacy to your registration, the only information listed in the Whois Information will be Bluehost. The whois information for any domain name is available to anyone on the internet. Your whois information can be harvested by marketing companies, which will give you unwanted solicitations. With domain privacy, you will still be the owner of the domain name, but your contact details will not be accessible through the whois information.
I would not sign up for any of the other services highlighted in red on this screen below, but that's up to you.
Now enter your billing information. Confirm that you have read and agree with Bluehost's Terms of Service, and then click on the Next button.
The system will now verify your credit card information.
Bluehost will next ask you to "Select the Upgrades that Best Suit Your Needs." I would skip all of these. Click the Complete button at the bottom of the page. Be patient. This may take a minute or two.
You should now see the "Welcome to Bluehost" screen, along with a "Congratulations" message. Now you need to choose a password for your account. Click on the Create your password button:
Use the Password Generator option to create a strong, difficult-to-hack password. Copy this to the clipboard by pressing ⌘-C if you are on a Mac or Control-C if you are on a PC. Now click the Paste button to paste the password into the appropriate fields.
Now click the checkbox that says, "I confirm I have read and agree to the Terms of Service …" Then click the Create button. This creates your new Bluehost account.
Warning: You might get an error message here. It is simply because it sometimes takes a few minutes for the Bluehost robots to create your account. Don't panic. Worst case scenario, call BlueHost Support at 1–888–401–4678.
This will bring you to the Bluehost login screen. Here you will be asked to log in to your domain. Your domain should be automatically inserted for you. If it is not, type it into the field provided.
Now use the password you just selected in the password field. Since you previously copied it to the clipboard, you can paste it with ⌘-V on the Mac or Control-V on the PC. Now click on Submit.
You may see yet another upgrade offer, perhaps for Optimized hosting. Feel free to ignore this for now. You you through the process of setting up your website. You can close this screen by clicking on the X in the upper right-hand corner. I will walk you through this myself. can always add it later. Instead, click on the Hosting link in the upper left-hand corner.
This will take you to the main Control Panel. You might get another pop-up. This one is offering to walk
You should now be at the Control Panel, sometimes called the cPanel.
Step 2: Download and Install WordPress
Don't be intimidated by the number of buttons in this step—it's amazingly simple. The process used to be complicated, and you had to be a semi-geek to pull it off. But Bluehost now makes it super-simple. Trust me, anyone can do this.
Scroll down the page to the "Website" section. Click on the Install WordPress logo and wait for the new page to load. Be patient. It might take a minute.
A new "WordPress" screen appears. Simply click on the Install button. That will bring you to a new screen. Now select the domain on which you want to install WordPress. It should default to the correct one. Click on Check Domain.
The next screen will say "Last step, you are almost there." Click on "Advanced Options." Type in your site name or title. (Don't worry. You can always change this later.) Accept the "Admin Username" and "Admin Password" that Bluehost suggests.
Now click on the item that says, "I have read the terms and conditions of the GPLv2." Now click on the Install Now button. The installation process should begin and will keep you updated on the process. Be patient, this will take a minute or two.
Bluehost might then offer you another upsell. (I realize this gets annoying. Hang in there. You are almost done.) Just close the pop-up if there is one. You can usually do so by clicking on the X in the upper right-hand corner of the pop-up.
You should now see a progress meter at the top of the screen. Again, this will take a minute or two, depending on how busy the Bluehost robots are. It will eventually say, "Your install is complete!"
Now click on the View Credentials button. This will take you to the Notification Center. Click on the View button.

When it is done, you will get a screen with your Blog URL, Login URL, username, and password. Bluehost will also e-mail this information to you, but I like to have a backup. I would write it down or take a screenshot. Also, copy the password to the clipboard (again, using ⌘-c on a Mac or Control-C on a PC).
You're making great progress! You have completed the most difficult part of the process. Now things will speed up considerably.
Log in to WordPress (WordPress.org login)
Click on the "Admin URL" link. This will take you to the WordPress.org login page.
Now enter your username and password. (Remember, you wrote these down in Step 3. You also copied the password to the clipboard.) Click on the "Remember Me" checkbook and then click on the login button.
You should now be looking at the WordPress "Dashboard." Sometimes, bloggers refer to this as the WordPress back-end. The front-end is what your readers see—your normal blog site. The back-end is what you see—how you control what appears on the front-end.
You might see a welcome screen or an offer for JetPack. Don't worry about these now.
Step 4: Write Your First Blog Post
Click on the Posts | Add New option in the left-hand side menu. You should now see the New Post screen.
Enter the title of your post, perhaps something like, "Welcome to My WordPress Blog!" (I know, brilliant, right?)
Now write your first post in the field directly below the title. Perhaps you could explain why you are starting your blog, the topics you plan to write about, and how often you intend to post. (Tip: under-promise and over-deliver.)
Now click the Publish button. This literally publishes your post for the world to see. You might see a message that says, "Your site is currently displaying a 'Coming Soon' page. Once you are ready to launch your site click here." If so, click on the "click here" link.
Congratulations! You have just published your first post on your very own self-hosted WordPress blog.
Step 5: Load Your New WordPress Blog
Simply click on the "View Post" link. Your new WordPress blog should load in a new browser tab.
As you can see, there's nothing very fancy here. WordPress uses a very generic theme by default. But that's the beauty of WordPress. There are thousands of themes available. I will recommend one in a minute.

How to Install WordPress Theme
The next step is to install a WordPress theme. There are literally thousands of free WordPress themes available.
Choose and install your WordPress theme. We use the GetNoticed WordPress theme which is a premium theme but has now been discontinued. There are very many free themes you can use. Make sure your theme is mobile responsive because most people now access the web through their mobile devices.
Here are some free themes to consider:
Premium Themes
You also have the option of premium themes. They are usually better, more responsive and have better support.
We recommend Thrive Themes. They offer WordPress Themes and plugins, built from the ground up to make your entire website convert more of your visitors into subscribers, customers and clients!
Click here >>> to check out Thrive Themes.
Help To Move Existing Blog From WordPress.Com
Note: If you need to move an existing blog from WordPress.com to your new self-hosted WordPress blog, I recommend you read this article: "How to Properly Move Your Blog from WordPress.com to WordPress.org."
How To Start A Blog And Earn Money – Learn More About WordPress.org
If you want to learn more about WordPress, I recommend How to Properly Move Your Blog from WordPress.com to WordPress.org. This is a WordPress tutorial free site with hundreds of videos on every aspect of WordPress., including WordPress plugins which are basically like WordPress apps
If you know someone else who could benefit from this information, please pass along the link to this post. If you would like to embed the screencast in your own blog, please feel free to do so. You can find the video on YouTube. Simply search for WordPress tutorial youtube.
Optional: What To Do If You Have Already Registered Your Domain
What if you have already registered your domain name on another service? No big deal. The first thing you will need to do is to point your domain name to the Bluehost servers. This will vary depending on where you registered it. Bluehost describes the process here.
Note: If you don't already own a domain, then this Step is not needed. You can just skip to the bottom, or click here to get your Bluehost discount
For example, at GoDaddy, where I have some domains registered, you log in, then go to Domains | Domain Management screen.
Now click on the domain name you want to point to Bluehost. You should now be looking at the "Domain Details" page. Scroll down until you see a section called "Nameservers".
Click on Set Nameservers. A new screen should pop-up.
Enter ns1.Bluehost.com in the field for Nameserver 1.
Enter ns2.Bluehost.com in the field for Nameserver 2.
Click OK. That's it. Now log out. It typically takes 24–48 hours for these changes to take effect. You might get lucky, and it will start working in an hour or two.
Please note: Bluehost or your Registrar (the company from whom you bought your domain) may change their procedures from time to time. If you have any problems, please check with them. I do not provide technical support for this process.
Once you have done this, you can begin the process of setting up your WordPress blog. In Step #1, after you click Sign Up Now, you will need to enter your domain name in the right-most box that says, "I Have a Domain Name."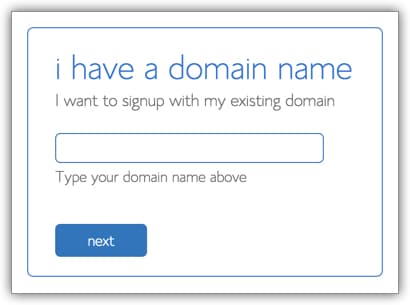 Now click the next button. Everything else should be the same. If you get stuck, you may need to wait for the change in your Nameservers to take effect before proceeding. Be patient.
If you made it this far, congratulations! As you can see, from this WordPress tutorial 2020, it is super easy to download and install WordPress and set up a Blog. So there you have it – How to start a blog and earn money!
Bonus: Outsource Your Design
If designing a blog seems a bit daunting, you can always outsource the whole process to get yourself up and running faster and smarter. We recommend Blog Setup Matters. They do an amazing job when it comes to professional blog design and setup service when you're just starting out. Click here >>> to check them out.
Show Me The Money – How To Start A Blog And Earn Money
How To Earn From Blogging
Now to the fun part. Having now set up your blog, it's now time to go to the fun part…how to earn from blogging! At Astute Copy Blogging, we genuinely want you to thrive as a blogger. We have the expertise, tools and resources to help you earn enough recurring income from your blog, so you can quit your day job, escape the 9 to 5 trap and live the life of your dreams.
Simply click on any of the buttons below to be taken to the appropriate page, so you can begin your journey as a Pro Blogger, and we can show you how to earn from blogging.
Click Here For Resources To Help You Blog Better
Click Here To Learn How To Make Money Blogging
Click Here To Learn How To Earn High Affiliate Income